Security
At The Torch, securing your information is our top priority and we are committed to maintaining the confidentiality, integrity and availability of the data you store on our site. By design, The Torch does not store highly confidential information like account numbers, passwords or documents.
We never share anything you enter with anyone unless you authorize it.
Both your log in details and instructions are encrypted when they travel the network and are at rest in our database.
We apply industry-standard auditing, logging, backups and network safeguards.
Data center access is limited to only authorized personnel and physical security is audited by independent firms.
While cyber-crime exists, please know we've taken every precaution to ensure your information will cost more to get than it will be worth. Our layered approach and expert team of information security partners help us keep your information safe, private and secure.
---
CloudFlare sits in front of The Torch website like a bouncer, keeping out unsavory visitors and online hacker threats.
---

GlobalSign encrypts the data you send from your computer to ours, making it impossible to read by anyone but you. You will see the security padlock in your browser's frame indicating you have a secure connection.
---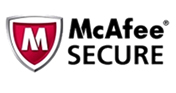 McAfee SECURE tries to break into our system daily using current hacker tools and techniques to make sure there are no vulnerabilities.
---

Trustwave helps the The Torch  manage credit card payment compliance and secure our network infrastructure.
---
Your Role in Protecting Your Data
Passwords are the first line of defense to access your account. We recommend you:
• Create a "strong" password using capital and lowercase letters, numbers and special characters [/.!@#].
• Never tell anyone your password.
• If you write down your password, put it in a secure location like a personal safe or safe deposit box.
• Never send your password by email.
• Change your password periodically and avoid using passwords you commonly use for other purposes.
• Do not enable automatic login. If someone gets access to your computer they can access your account.
Here are some other things you can do to help protect your information.
• Keep your computer and browser software current with the latest security updates.
• Install and keep updated anti-virus software along with use of personal firewalls to protect your computer.
• Always log out when you are finished. To help, we automatically log you out if you are idle for more than 1 hour.
• When using third-party computers, such as those in Internet cafés, exit using the log out icon before walking away.
How to Report a Concern
If you suspect you have received a fraudulent email from The Torch or your account has been accessed by someone other than you or the people you have authorized, please contact [email protected].